S'Park

A Better Street Parking Experience

S'Park is an app designed to create a better street parking experience. It is a street parking finder that locates the street parking closest to the user's final destination. Its in-app GPS allows the user to find their way to the parking spot and informs the user how much the parking meter is going to cost beforehand. Once the user has parked, the app tracks the time and alerts the user to recharge the parking meter on its platform.

Year: Fall 2017 Group: Kanika Kumar, Elaine Lu, Noah Jung, Sean Lin, Alice Kim.Tools:
Adobe Illustrator, Photoshop, Figma, Sketch, After Effects
Q.
How can we alleviate urban mobility issues to ease user frustration and inconvenience?




Cities are getting smarter and more efficient by the day. These emerging smart cities utilize electronic data collection sensors to monitor various city wide services. This opens up many new opportunities when designing new experiences. Moving forward with this project, we asked ourselves, "How might we improve and design experiences in the context of these emerging smart cities?"

Design Opportunity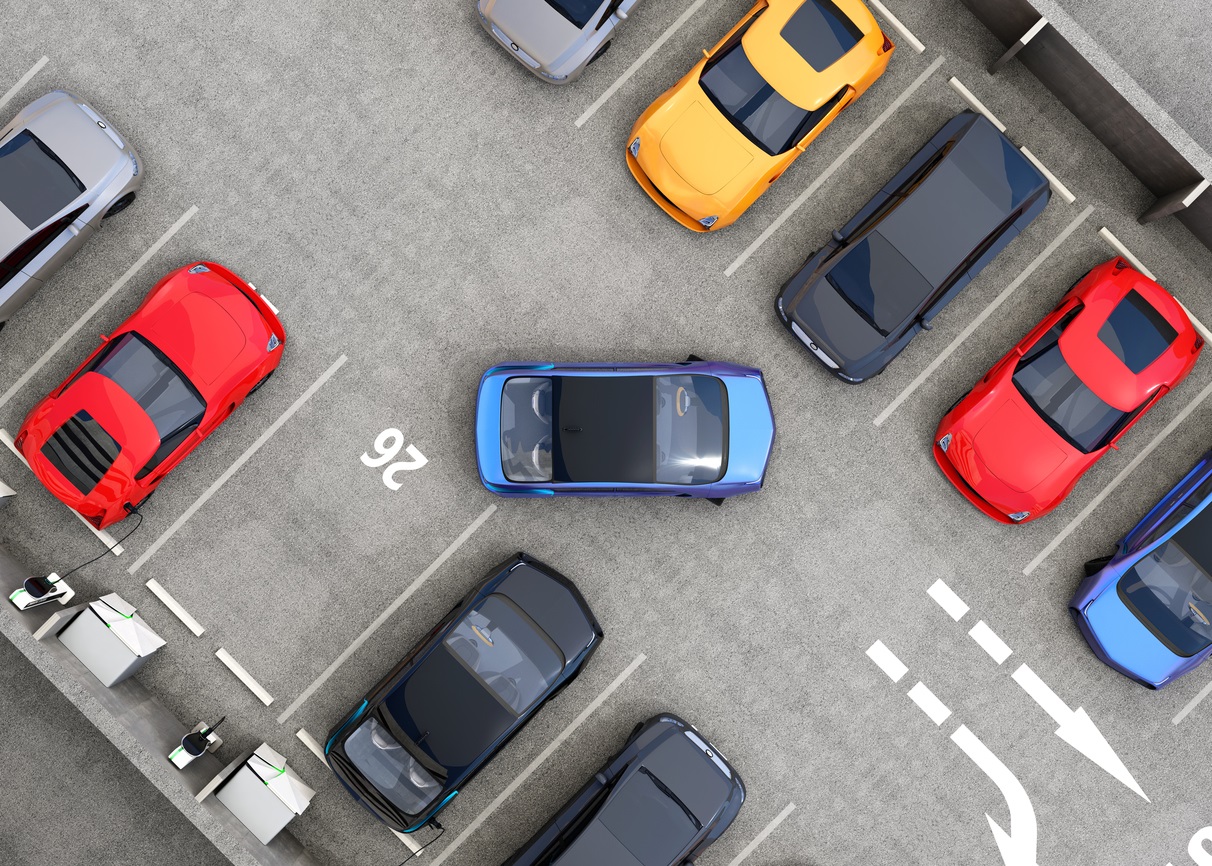 Having efficient street parking is vital to the fast paced nature of the urban lifestyle. We conducted research and found many issues that arise with the current street parking experience. Several key issues with street parking include finding a parking spot at close proximity to destination, anxiety surrounding over-time parking as well as under utilized parking spaces.

These issues opened up many opportunity areas for us to design new digital experiences. Our goals for this project is to design a future facing app that can help users find street parking efficiently, increase user preparedness when driving to new places as well as automating parking payments on mobile phones.

With an idea in mind, we came up with a list of things we wanted to know. Going into the research phase, we defined assumptions (what do we know, what we know but can't know, what we know but can know). With this list, we came up with a list of question and sent them out to people around the New England area in a form of a survey. With over 30 responses we were able to get a good idea of the existing issues surrounding street parking.


Key Findings
Utilize and show all available street parking spaces
Help users find street parking with lower prices that are closer to their destination
Reduce number of parking fines that are issued
Increase user preparedness when driving to & parking at new places
Reduce anxiety surrounding over-time parking
Reduce time people spend looking for available parking
Automate parking payments on mobile phones

What goals are we trying to achieve?
People spend less time looking for available parking (less stress, more preparedness)
People become more aware of availability of parking around set locations
People are more aware of paid parking, free parking, and time zones/limits
People receive fewer parking fines with our app notifications and renewing payment feature

How will we define and measure product success?

People usually get fined when their meter runs out.
Popular parking locations: Benefit Street, College Hill, South Main Street, Downtown.
Many people have issues with unpaid & expired meters.
Most people think looking for parking is hard.
People try to avid paid parking, and if they pay with card they tend to pay maximum amount.
Reserved parking for faculty is annoying for other people to see and not be able to park.
The most important factor when looking for street parking is lower price and proximity of parking spot to their destination
People like the simplicity of the current parking meter with a time countdown
User Segmentation and User Needs

Looking at the research, we boiled down the user types into two categories: Free Parkers, people who prefer not to pay and do not mind walking or driving the extra mile to save money for parking. Paid Parkers, people who are fine with paying for parking as long as they find the closest possible spot to their destination. Using this information, we developed user personas and identified user needs using a journey map.

Setting the Scope of the Product
Conceptual Models
Before structuring and developing the surface elements of the app, we researched different conceptual models that can help us as well as the audience better understand the concept of our app.
Structuring the App
Wireframes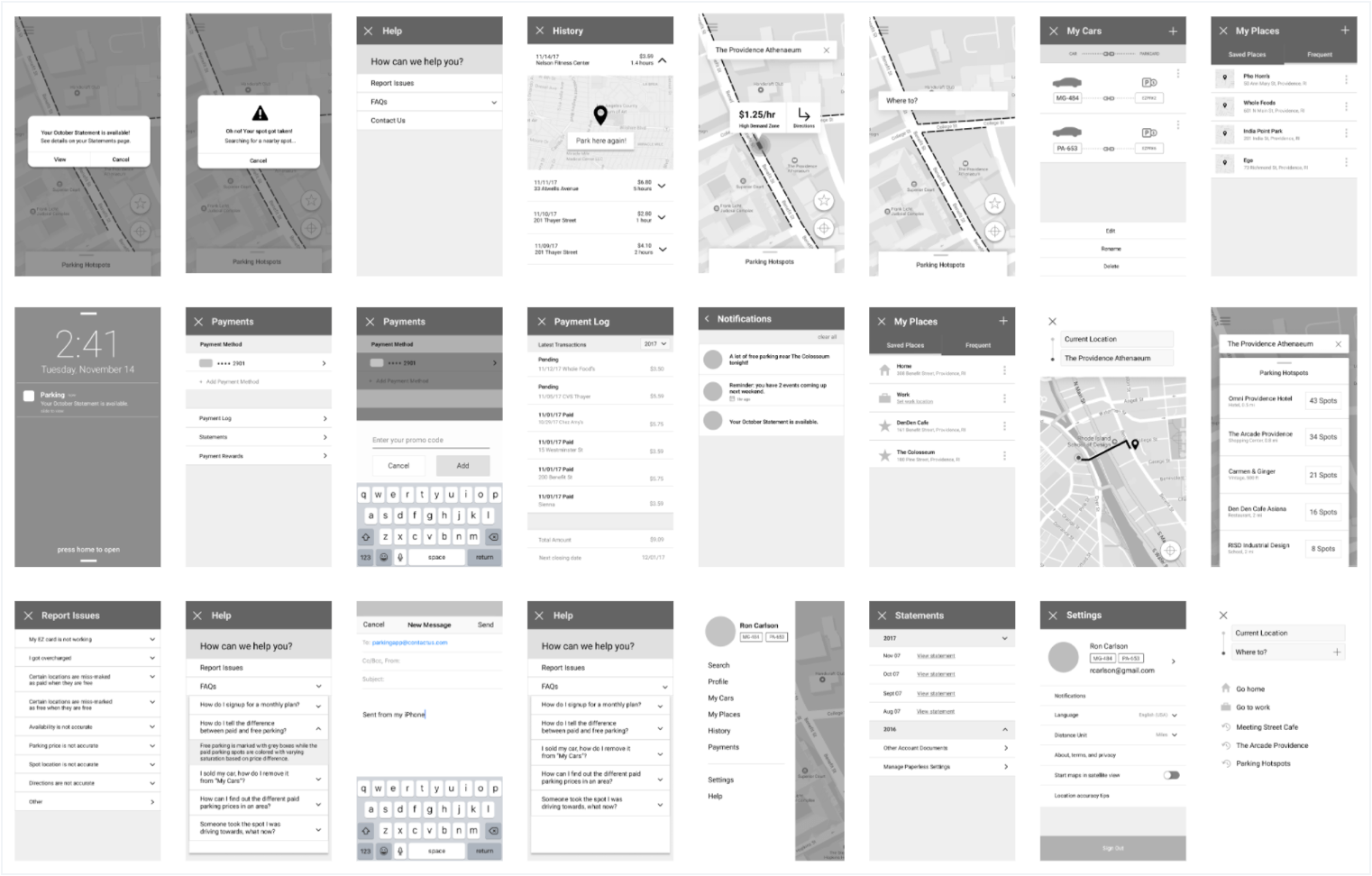 Branding and Surface Design