Protein, No Guilt

Exhibition to Promote Alternative Protein

Protein, No Guilt is an exhibition display to break the myths of alternative protein. To promote environmental, ethical, and health benefits of alternative protein, this exhibition invites the audience into its fun and interactive experience.

The challenge was to set up the exhibition structure in 90 minutes in the assigned space at the RISD Met Cafeteria. The design had to consider how it would be delivered from our studio to the Cafeteria and be constructed back up in the set time.

(The finished structure must fit into a 5' x 2' x 2' space (bag or box) when not assembled and then be erected at the MET mezzanine within 90 min. Fully assembled exhibit may not exceed a 10' high x 8' long x 4' wide space.)



Year: Fall 2017

Group:
Karl Salander, Micah Epstein, Alice Kim.

Material:
Recycled cardboard tube, cardboard, PVC joinery, wooden dowel
Q.
How can we break the myth of alternative protein and encourage people to eat healthier and more ethically?




Alternative protein, meat substitutes, fake meat is on the rise. Many have heard of popular new alternative proteins such as Impossible Foods and Beyond Meat, plant-based and scientifically-driven meat substitutes that continue to gain traction in the marketplace. However, as it is a fairly new product, there is still a mystery and doubts about alernative proteins.
Research

Why Alternative Protein?

It would be impossible for a global population of 10 billion people to eat the amount of meat typical of diets in North America and Europe and keep within the agreed sustainable development goals (SDGs) for the environment and climate: it would require too much land and water, and lead to unacceptable greenhouse‑gas and other pollutant emissions. In addition, excess meat consumption and current production have significant effects on human health, livelihoods and the economy. Meat thus poses a special challenge to the future development of the global food system.

Trends in the consumption of meat
Three potential pathways to meet the needs of the world's growing population for protein in a sustainable and healthy way

︎alternative proteins
︎changes to current production systems
︎consumer behaviour change
Emission intensities of the different food types
The health effects of consuming an additional portion of different alternative proteins
Animal Protein vs. Alternative Protein
Future of Food


There used to be a myth that we need to consume different types of foods to form "complete proteins" in the body. While this shouldn't necessarily be ignored completely, it's also not as important as we once thought. There are plenty of complete sources of plant-based protein that we can eat. Our bodies can also make complete proteins when we eat a variety of higher protein foods, even if those foods aren't necessarily eaten together (such as rice and beans, a classic example of protein pairings). One struggle, however, is that many people aren't sure how to replace the meat on their plate with a plant-based protein they'll love and enjoy as much as meat.

The successful introduction or development of these alternative products depends on a lot of factors. They must score well for taste and price. Also they have to be healthy and appeal to a broad range of potential customers. The interaction between producer and consumer is crucial. Many of the alternative ways of producing protein rich feed are still under development and there are many uncertainties with regard to production costs, environmental impact and the final feed quality.
Cricket
Quinoa
Seitan
Impossible Beef
Educate the dangers of animal protein
Promote the benefits of alternative protein
Break myths and doubts about alternative protein
? ︎ ︎
An exhibition display that promotes alternative protein in a visually fun and interactive design
Design Process

With the research in mind, the focus of this exhibition was to inform the audience about the benefits of alternative protein and help the audience become familiarized with it. Thus, it was important to keep a visually appealing aesthetic.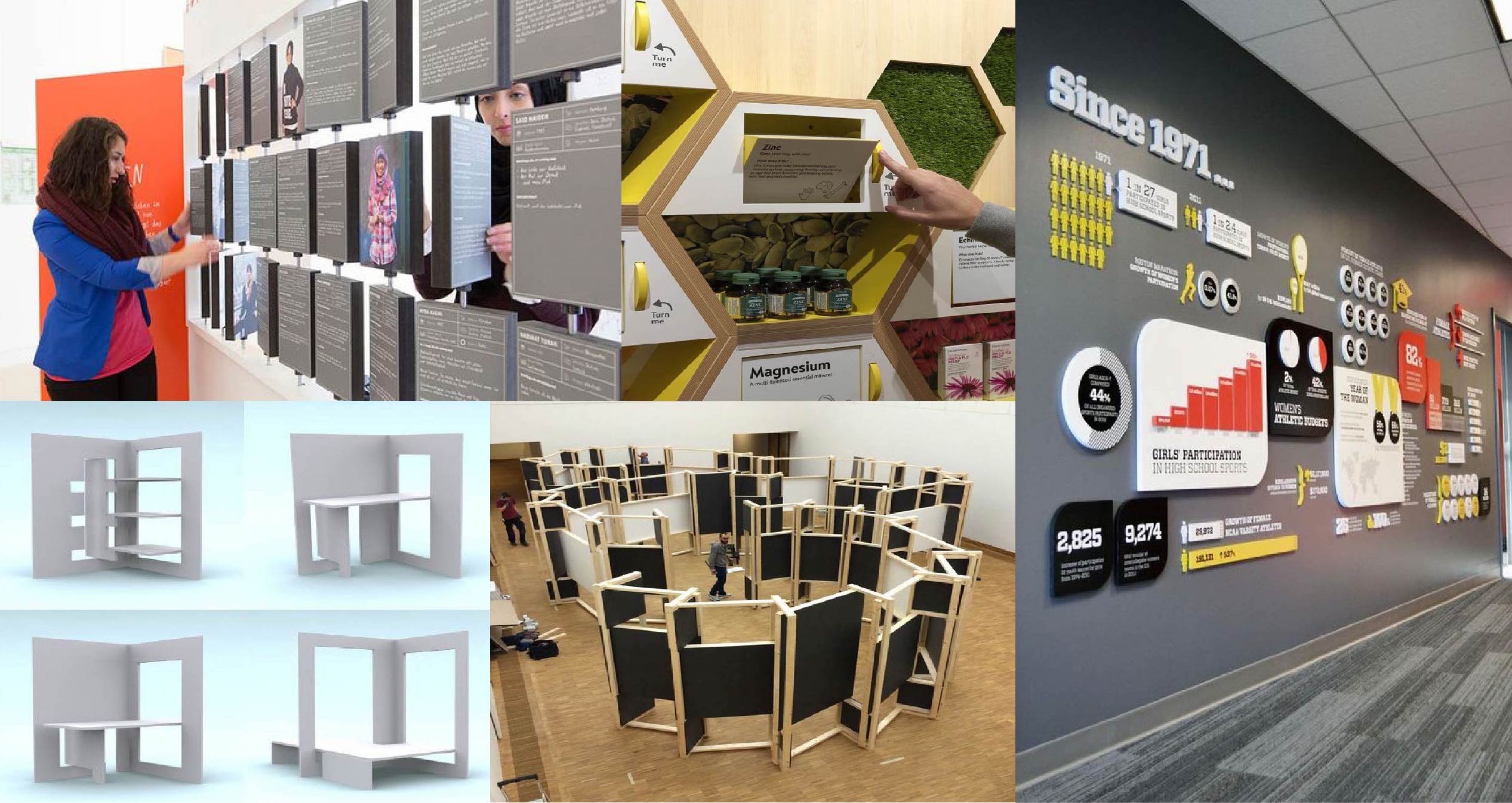 Food Related Visual Language

Alternative Protein Butcher's

Dining Table Food Hooks Recipe
Initial Models
Selected Model
Icons inspired by alternative proteins
Cricket, Impossible Meat, Saitan, Quinoa
Patterns created from the icons
(zoom in to see details)

Since the topic of this exhibition display relates to being environmentally friendly, it was important to use materials that were either recycled or recyclable. Recycled carboard tubes, recyclable wooden dowels, recyclable cardboard were used to construct the structure. Minimal PVC joinery were used only for essential joinery parts.

Cardboard tubes + PVC joinery
Wooden dowels for additional support
Modular Structure

In addition, the structure had to be easily transported to the exhibition location and constructed in 90 minutes before the show. As a result, it was very important to create a modular structure. All the parts were marked so it could be easily constructed in the set time.
Thank you!