Horizon Center
Psychosocial Design Curriculum for Refugee Women
In partnership with the MIT D-Lab and Faros (Local Greece NGO), the Horizon Center is provides refugee minors and women in Greece with hands-on design education, coupled with psychosocial support to nurture their creativity and mental health. During the height of the Covid-19, the center gave RISD students an opportunity to design an online education curriculum for refugees in the Horizon Center. Each team was to create and run a 6 day program that provides refugees with technical and soft skills to improve their livelihoods now and in the future and to rebuild their sense of agency.
The challenge of this class was to run a week long design program with the refugee women in the Horizon Center Program.
한국어 번역 버젼 준비중...
작업년도:
2020 봄 (Humanitarian Innovation Design)

도구:
Zoom, Miro,
Adobe Illustrator,
Adobe Photoshop.

팀 분할:
Seojeong Kim, Sejin Hwang, Malaika Franks, Hannah Riley.

---
Question... 🤔

What type of program do we run to relieve the mental distress of being a refugee
and the uncertainty that follows with the COVID-19 lockdown?
Many refugees were exposed to inhumane and degrading conditions during their journey, which could lead to significant trauma. The coronavirus outbreak has also brought new uncertainty and danger. All these factors can lead to psychological distress while feeling alone, unable to find the positive light within their lives.
---
During the height of the Covid-19 in 2020, there was a lot of uncertainty regarding health and regulations.

Most countries were under lockdown and so was Greece. According to SARS pandemic report, quarantine could lead to severe mental problems including loss of motivation, depression and even post-traumatic disorders. The situation was harder in the refugee camps as there was not enough space or resources to isolate each individual.
The women at the horizon center had to take refuge in a new country (Greece) away from their home country (Syria, Afghanistan, Iran, etc.).

About 1 out of 3 asylum seekers and refugees, experience high rates of depression, anxiety, and post-traumatic stress disorder. Without proper therapy or treatment, these stressors can come back as recurring trauma throughout their lives.
After interviewing staff at the Horizon center, our team was able to get a much better picture of the situations.

Compared to the boys and men, the refugee women have more responsibility. Being the main caretaker, the women have less time on their hands. Especially during the lockdown, when the whole family was home, they have a lot more responsibilities as a wife, a mother, and overall a responsibility to manage every aspect of the household.
Developing an engaging program is vital for a successful satisfaction and higher participation rate.

Combining elements of play and education can help learn skills in a fun and engaging way. At a time of loneliness and isolation, a sense of community even within an online setting can strengthen a sense of community and compassion.
---
Solution... 💡️

To design and run a successful 6 day program...
1. Offer a platform for women to express their emotions
2. Develop a way to learn emotional coping skills
3. Engage participants in fun activities combined with education
---

This is the general layout of program week structure.
Monday would be a Warm Up, Wednesday would Explore the main activity of the week and Friday would reflect on how these activities apply in their real life, with reflection sessions in between.
For the Monday Opening activity, our team wanted a warm up that could to grab participants' attention to want to continue the rest of the week.

Ideas
1. The Look Around You: take photos of your belongings or space.
2. The Circle: draw as many facial expressions in 30 circles.

For the Wednesday activity, through drawing and ideating, participants would dive deeper into the topic of the week- emotion.

Our team wanted the participants to create a character revolving around specific emotions.

One critical part of this is allowing for exploration of these characters personalities and backstories. This mean the character development isn't purely dependent on the participants drawing skills.
How to guide the the women through creating their own characters since drawing isn't easy for everyone
Ideas
1. Give the participants creative freedom to create their own shapes by using fruit juice or spices mixed with water.

2. Using an outline of their own object as a starting point in creating their character.

3. Fill in the provided character template including a pre-drawn creature outline and details.
For the Final Activity, participants would look at applying these characters in real life situations.

Ideas
1. Emotion action plan for when the character encounter emotional distress.
2. Show how character's negative emotion could change into a positive one.
After getting feedback from Ismini and Saye (HC Staff), our team was able to pick which activities would be best suited for engaging the women.
Monday
: Look Around You would be a great way to tie together the rest of the activities. Starting with taking photos of objects within participants' space.
Wednesday
: Then moving into middle of the week to use the same object to create a baseline for the character building. For this activity, we combined some elements from all three ideas, using spice and fruit juice as coloring elements, using characteristic templates as reference and again using the personal object.
Friday
: And then to finish the week smoothly, we ended with creating a storyline of a character transitioning from a negative to positive emotion. This is an aspect that the women often struggled with.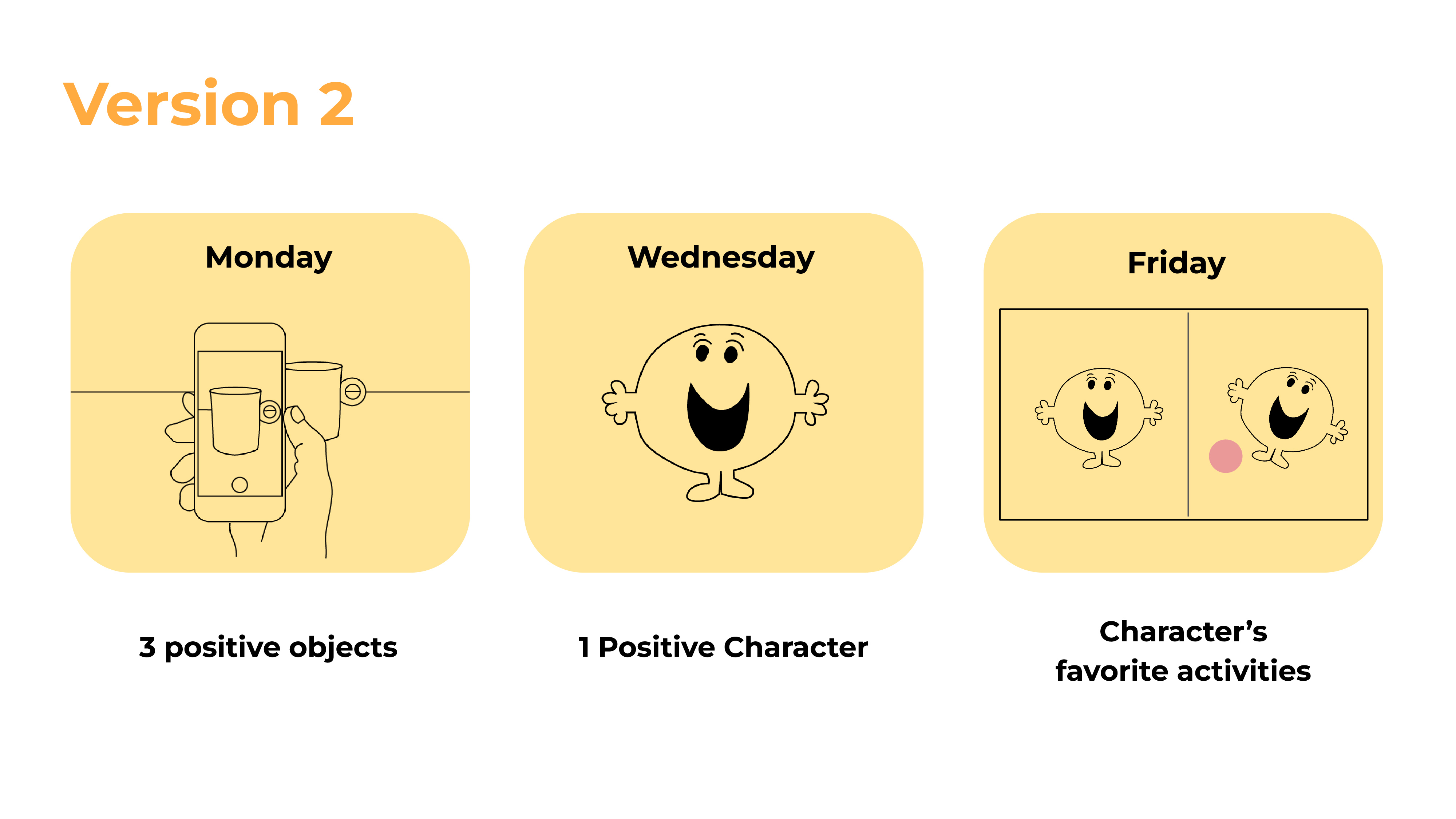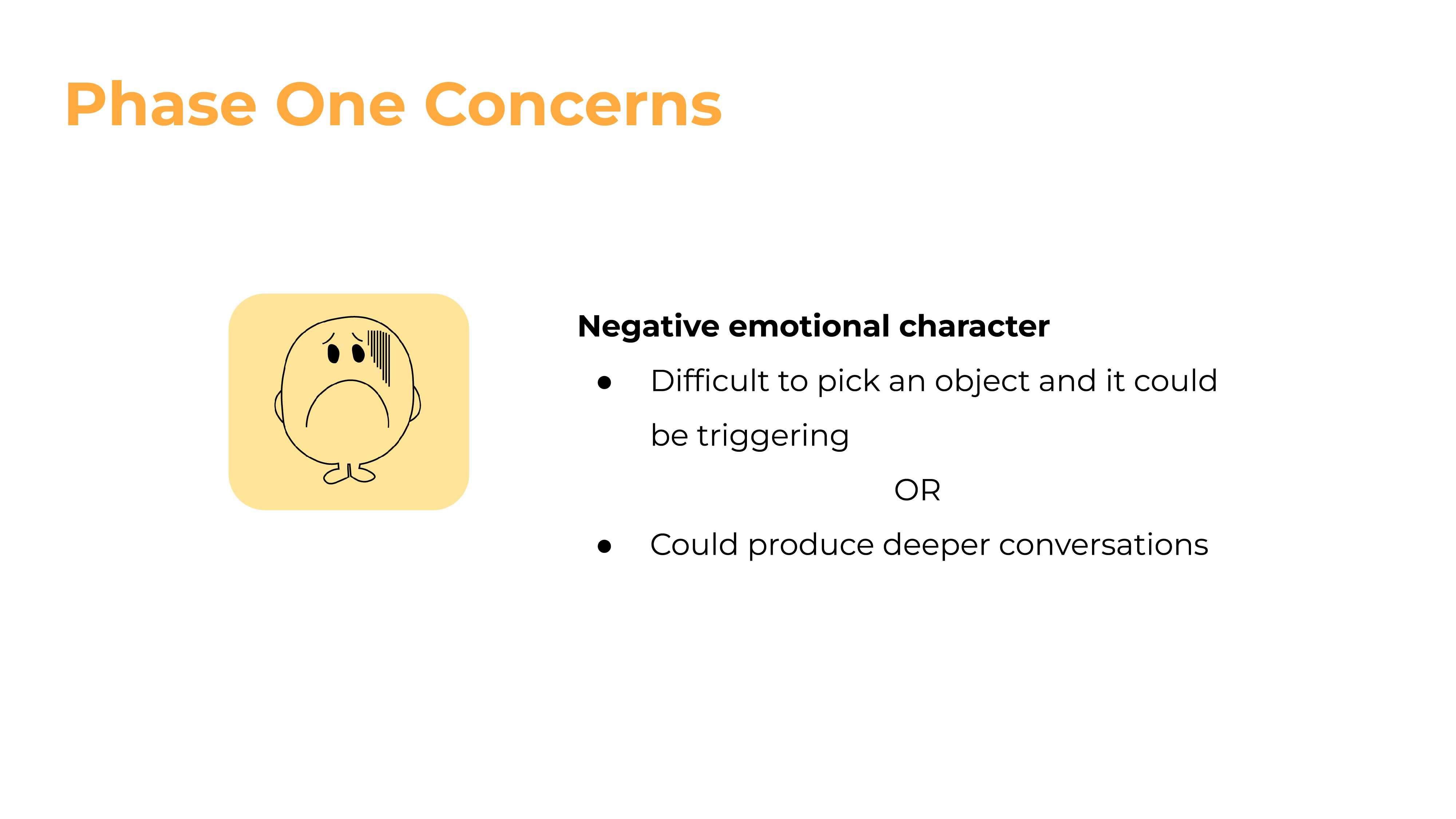 Two versions of testing with our classmates and feedback from HC Staff to test the effectiveness
Our user testing of these two versions reaffirmed our concern that it could be difficult for people to associate negative feelings to an object, and they might not enjoy putting negative associations to their belongings.

They would be creating the negative character before understanding that at the end it would turn positive. It may cause the participant to feel upset later on in the week. We also found that our participants found it confusing, shifting negative emotion into positive emotion.

The decision was to execute version 2 because it received more positive results. Throughout version 2, participants had an uplifting experience and reminisced on happy moments in their lives. We also found the program had a better flow without confusion from the participants' perspective.


final design coming soon...