Come Sit!

Transformable Lounge Area for Small Studio Work Spaces

Come Sit! is a transformable seating arrangement that creates its own small lounge area in a tight studio work space. With its inviting color and comfortable foam, Come Sit! is a perfect lounge area for any occasions. Anyone can enjoy it alone but it is always better when used with others to socialize. It can be transformed easily into three different modes depending on its purpose and number of users.


Year: Fall 2019

Tools:
Sewing machine.

Material: Fabric, upholstery foam, foam core.
Q.
How can we make RISD ID students to want to come into studio more often outside of class time?




Industrial design building at RISD should be a place where students would want to come to work after studio hours. ID students usually have a lot of physical work which requires space and equipments. However, unless it is necessary, most students do not want to work in the building. Thus resulting in lack of belonging within the ID community because students are not physically there.
Initial Survey

Survey with 24 Industrial Design students
What kind of studio space are you given?
Do you prefer working in studio?
How often do you work in studio?
Why or why not do you prefer working in studio?
I prefer working in studio

︎Communal stress and working with peer
︎Separation of work and rest- less distraction
︎Allowed to get messy

I do not prefer working in studio

︎Uncomfortable- studio stools and desk
︎Distraction when there is too many people
︎Dull and depressing- appearance and competition
︎No privacy or safety
︎Not enough space
︎No place for rest

Insight

Overall, students did not want to work in studio because the work space was uncomfortable. They found everything in the building hard and rigid, including their desks and stools, which made them not want to stay for too long. There is little to none comfortable seating in the building. Additionally, they found the building uninviting due to its cold and industrial appearance. Mainly consisting of brown, grey, white and black, the colors of the building make the environment dull and depressing.
Design Opportunity

Creating a Lounge Space

During the fall 2019 semester, the Office Design class was held in the third floor, which had a better space division and only held two classes during the semester. Our class was able to create our own lounge area in the back of the class room. Although it was a tight space, we put in a couch, a few colorful chairs, and overall decorated it.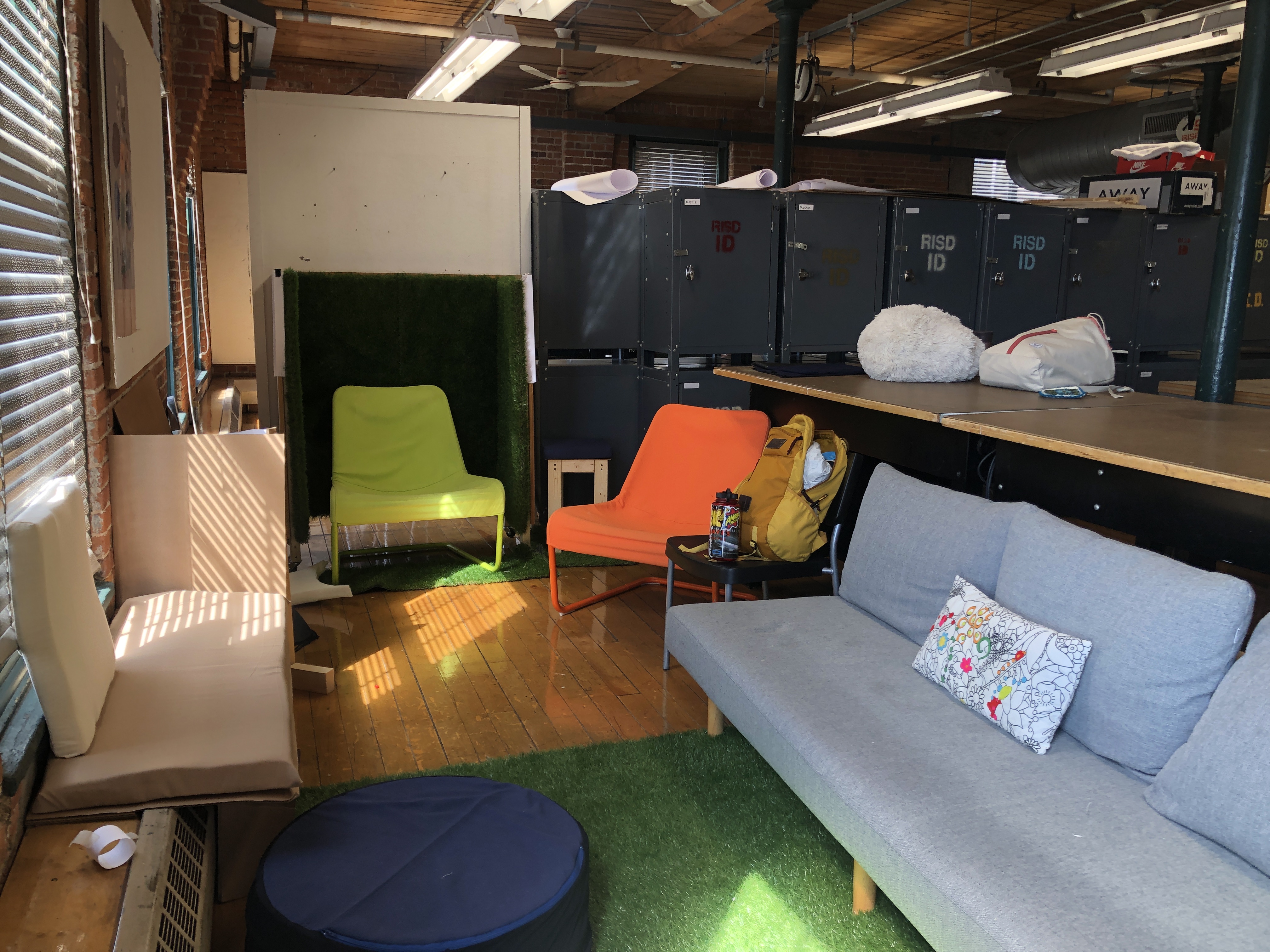 3rd Floor Mini Lounge
Better Informal Discussion We used the lounge space during class work time to sit and discuss our ideas with other classmates. The discussion felt a lot more comfortable and informal, which helped our feedback for each other flow better.

Casual and Comfortable A lot more classmates were able to sit together in eye level compared to talking to each other near the desk area. Outside of class time, when we had more laptop based work, we used the area to sit comfortably and enjoyed not having to sit on the rigid studio stool.

More Comfortable Break and RestDuring break time, everyone would eat snacks together and share casual conversation in the area. We were also able to use this space when we got tired from working and to take a nap. Other students not in our class started coming in to use the space when they are taking a break.

Outcome
This lounge area was a big component in creating a better community environment within our class, which made students want to come into studio more.

Biggest Problem Area in the Building

The biggest problem area in the ID building is the fourth and fifth floor where 6 studio classes, each consisting of 10-15 students, are filling up each floor. Due to tight studio space arrangements, the fourth and fifth floor lack in comfortable communal spaces for classmates to hang out in or do informal discussions in.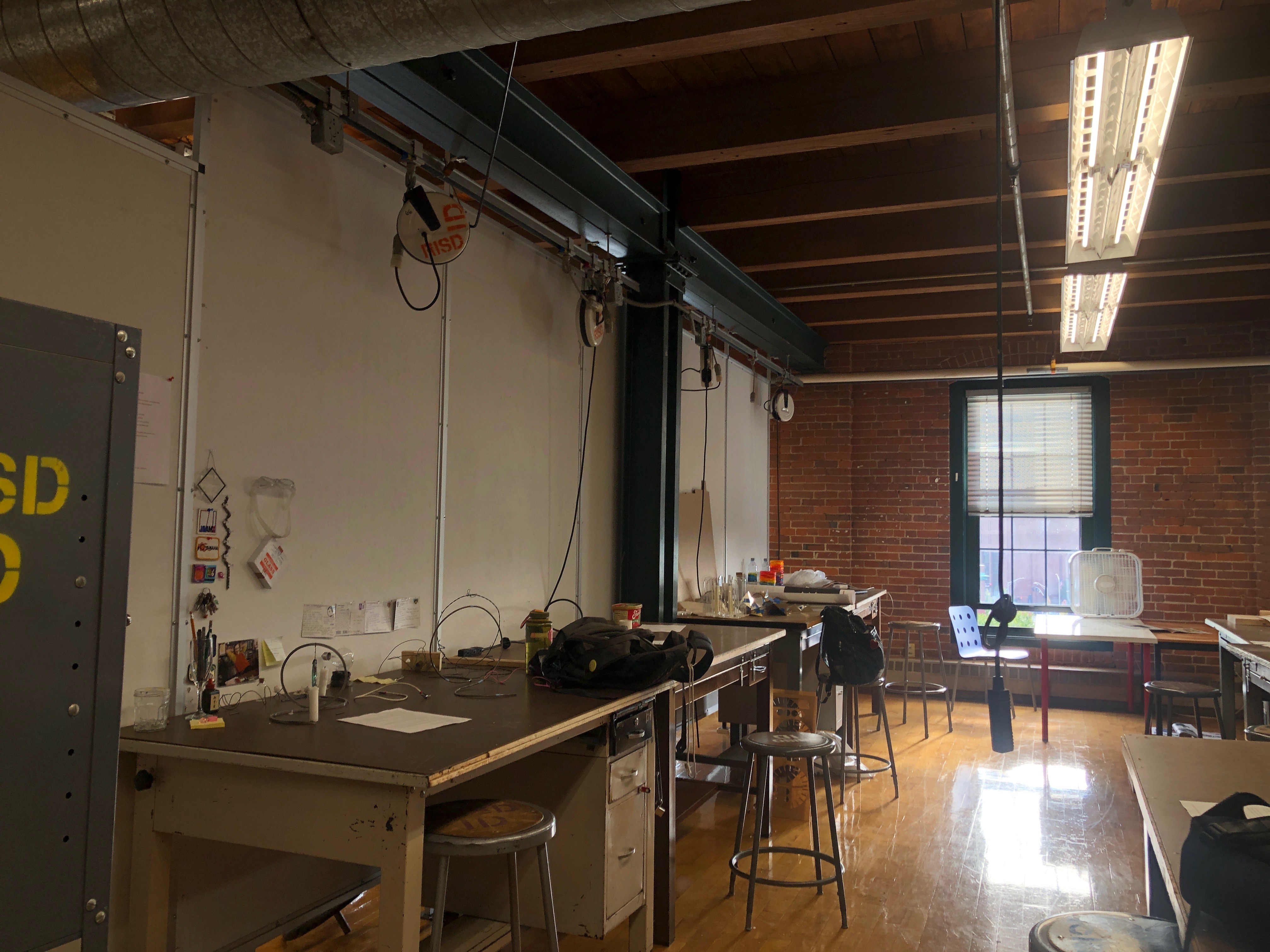 No divided classrooms with walls and doors but instead dividers to divide each class
Secondary Interview

An in-depth interview with students that have class in the fourth and fifth floor
Dead SpaceThere were a lot of dead spaces within the studio area. Certain corners and walls were not being utilized at all.

Corner Space When I asked if they could pick any desk to sit, students preferred corner desks for feeling of safety so no one can stand behind their back.

Separation of Space For break time, students wanted separation of work and rest, feeling like they are not in studio. Some said they prefer to go outside of the building or at least outside of their studio space.

Comfortable and inviting seating
Separation of work and rest in a small space
? ︎ ︎
A comfortable community lounge area with space restriction in consideration
Interior designers have been using color to divide a space and to create an illusion. By using color strategically, interior designer create a different atmosphere within a space.
Color Psychology

Colors and emotion are closely linked. Warm colors can evoke different emotions than cool colors and bright colors can create different feelings than muted colors. It all depends on how the psychological effects of color are being used.

Yellow is attention grabbing and energetic, which would be helpful to create a clear division of space.
Pantone 7548 C
Toned down warm yellow
Happiness
Warmth
Softness
Energetic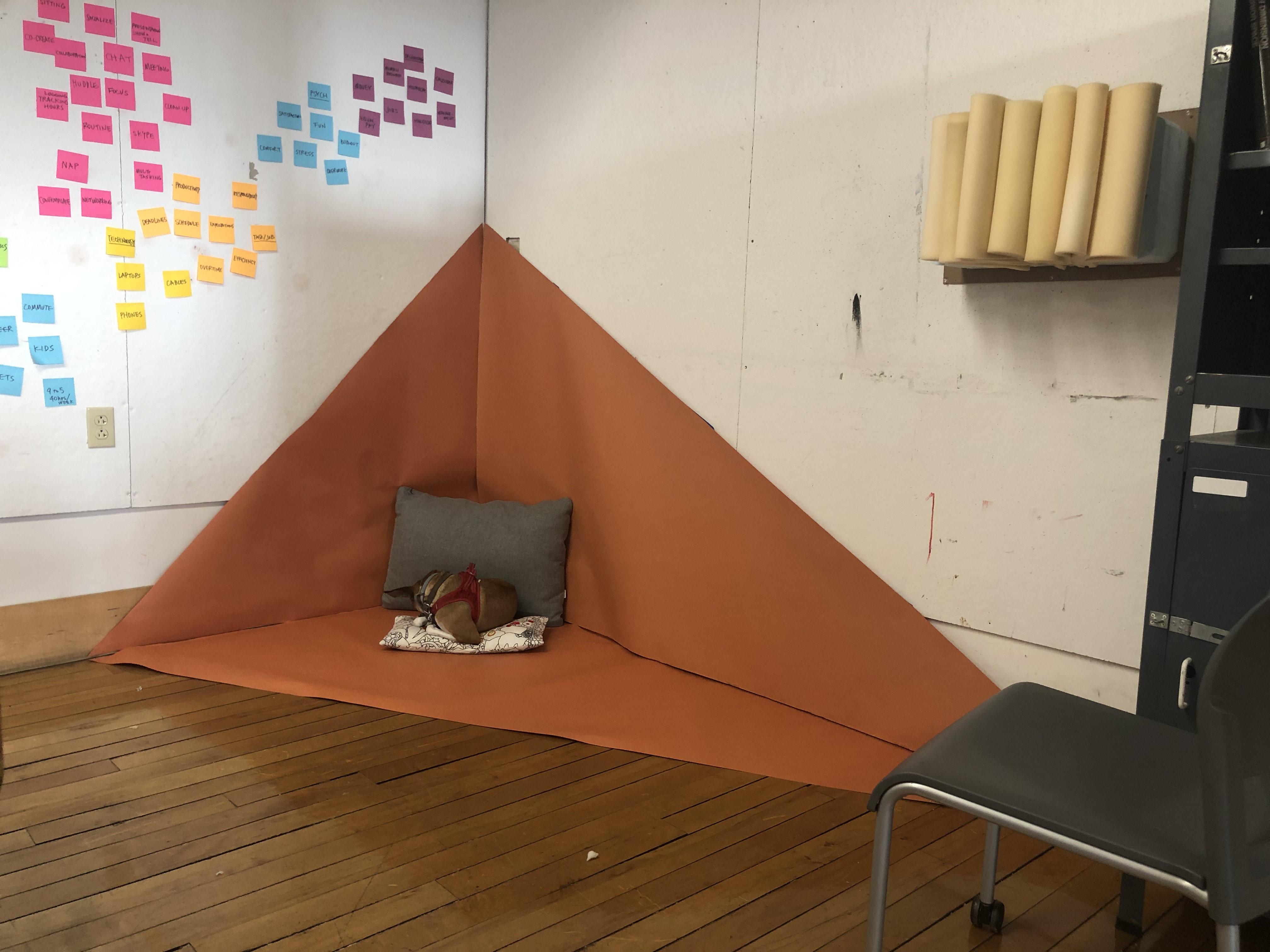 I experimented with how color division would look like in our studio by setting up large sheets of vibrant orange wall paper in a corner.

It created a very clear divide in the corner. When you sat down, it felt as if the color was embracing you into the corner.

Initial Small Scale Model

This model was designed to utilize a corner within a studio. In its off mode, it would be folded up and tucked away in between the lockers. When it is being used, students would take it out to set it up as shown in the bottom images and prop it up against a corner.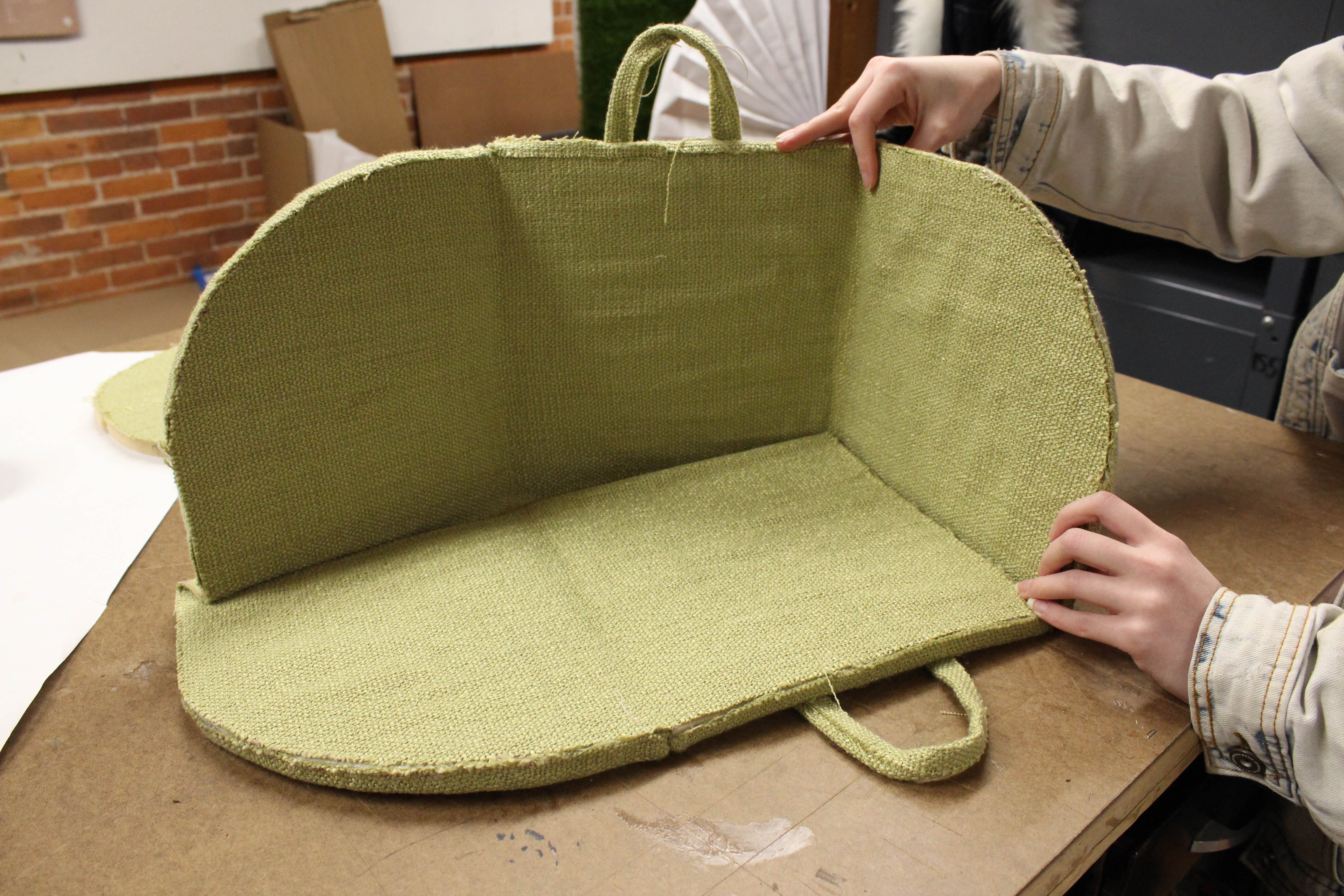 Questions

How to engage people to take it out of the off mode spot and set it up? Because it would be tucked away between the lockers, people would have to reminded to use it.

How to narrow down how people are going to use it and fold it? Because there was so many different ways it would be folded, people would not know how it is supposed to be folded up and try to make their own ways of using it.

How to keep it clean from the multiple folds? Also the multiple folds would easily get dust into the sitting area.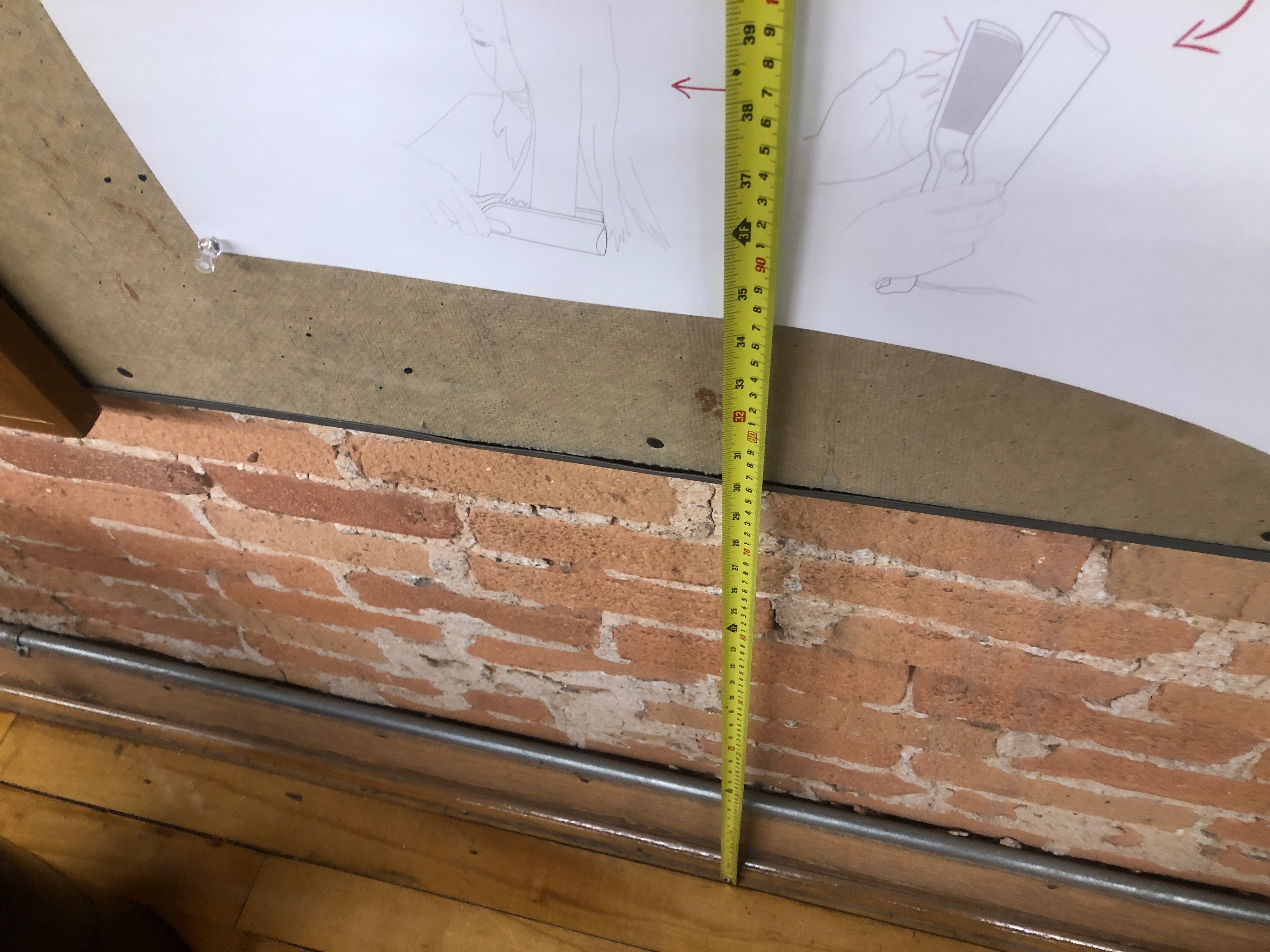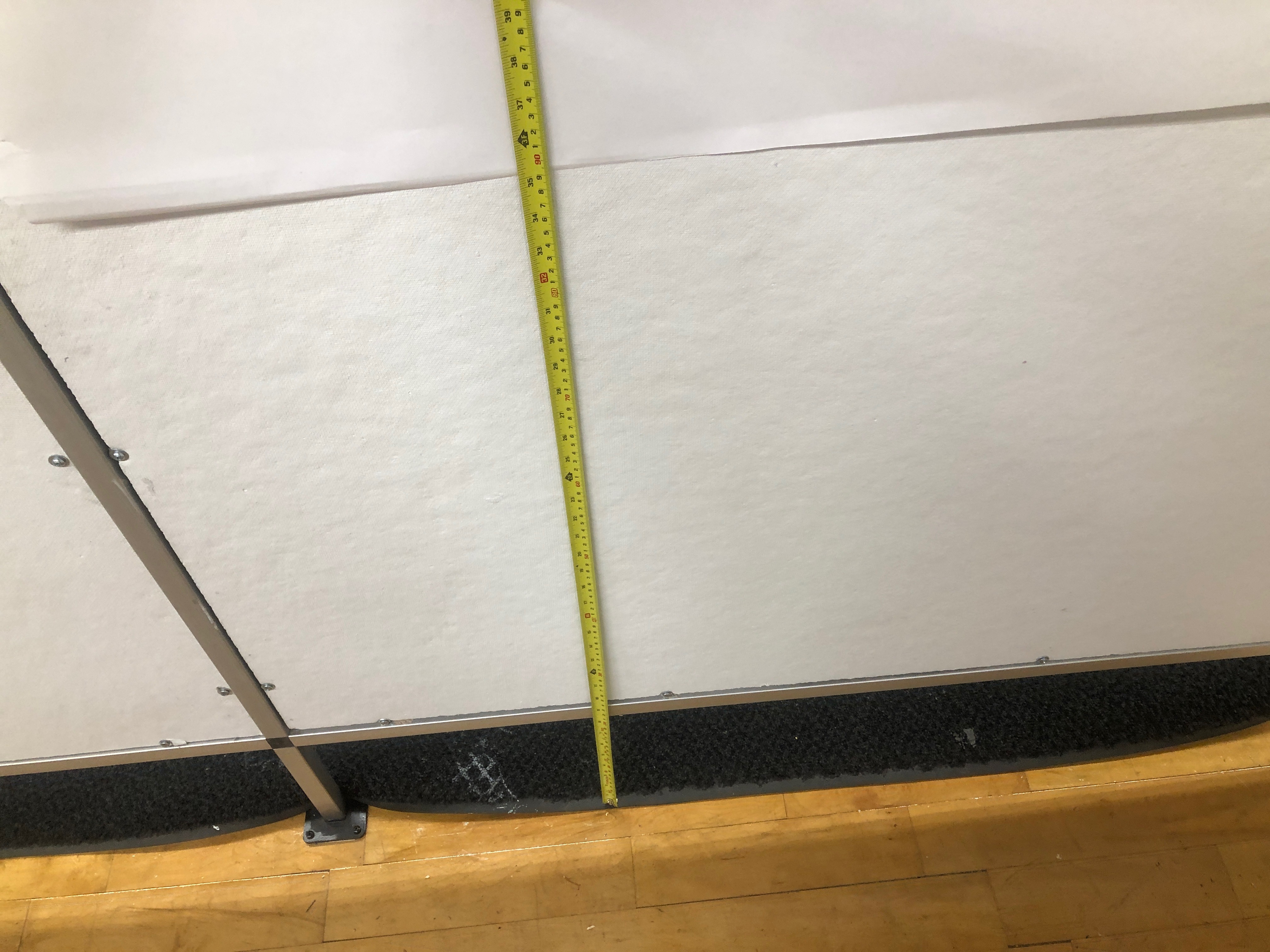 Rethinking the space

There was a dead space at the bottom of the crit walls. Students would pin up on the crit walls at eye level. The lowest people put up their posters was 33 inches from the ground up.

So instead of relying on the existing wall corner, why not make create a new corner space?
Final Small Scale Model

With the insight from the revision in mind, this new model answered all the questions brought up in the initial model.

This model would be hung up below the critique walls (middle of the classroom) when it is folded up. It would be easily accessible without the hassle of finding it and setting it up like before. The folds were also simplified so it would be easier for the user to know what to do with this.

︎Simplified folds - easier directions ultimately cleaner
︎Clear on and off modes
︎Easily accessible - no need to take it out and set it up

Thank you!